MALIBU, Calif. – The body discovered stuffed inside a sealed barrel at Malibu Lagoon State Beach earlier this week has been identified as a male adult who was an aspiring singer-songwriter and rap artist, according to reports.
The Los Angeles County Department of Medical Examiner-Coroner identified the body as Javonnta Murphy, 32, of Sylmar. His body was found naked inside the barrel on Monday. It remains unclear how long he was in the container and his cause of death has not been released, the Los Angeles Times reported.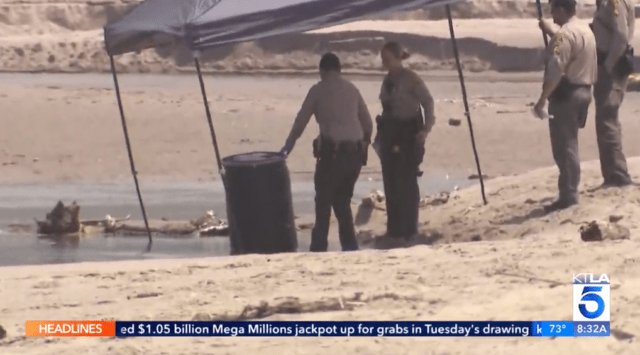 Social media pages attributed to Murphy indicate he was a local singer-songwriter and hip-hop artist. He often posted videos of himself musically jamming and singing to his own tunes in his car. The artist also shared a YouTube link to what appears to be a band's page, Tank & Booq, which featured three songs, according to the New York Post.
Murphy's latest Instagram post appeared June 13. He posted a video of him drinking from a large bottle of wine, with the caption: "When you've been drinking more alcohol for the past five days…"
A comment from hotblackpepper58 read, "Nephew what's going on with you come by."
"This is not what happens in Malibu," former Malibu Mayor Jefferson Wagner said. "This is not a common occurrence. I mean, bodies in a barrel is just sad."
Murphy had two prior arrests in 2017 for battery, domestic violence and failing to appear in court, all misdemeanors. The cases were resolved with a plea deal that called for 45 days in jail, three years of probation and court-ordered domestic abuse classes, according to court records. After violating a protective order in that case, he was sentenced to three days in jail in 2018, the Los Angeles Times reported.
The homicide investigation remains ongoing by LASD detectives and no arrests have been made.
---
Law Officer article, August 1, 2023
MALIBU, Calif. – The corpse of a man was found stuffed inside a 55-gallon drum at Malibu Beach on Monday, according to the Los Angeles County Sheriff's Department. Detectives with the law enforcement agency are trying to identify the individual and find evidence related to the homicide.
A park maintenance worker first spotted the barrel floating in the water at the Malibu Lagoon near the Pacific Coast Highway bridge on Sunday evening. The employee tried to drag the container to shore, but it was too heavy so it remained in the water overnight, KTLA reported. 
When lifeguard personnel arrived at work on Monday, they saw the barrel about 10 a.m. and swam to retrieve it. As they encountered the container they made the grisly discovery, LASD said.
"It didn't look decomposed or like it had been there for a long time," Lt. Hugo Raynaga noted.
The high tide may have carried the barrel from the ocean into the lagoon, officials added.
People using the beach were stunned and "deeply concerned" when they learned of the gruesome discovery.
"It's something that doesn't happen very often at all here," said Ric Collins, who was at the beach on Tuesday morning. "It's unthinkable."
Detectives are working to develop clues as well as potential witnesses that will help them identify the victim and solve the disturbing homicide.