NORTH CAROLINA – Leading manufacturers of world-class bullet-resistant armor, ballistic shields and protective equipment, BlueRidge Armor introduces the new VENGEANCE™ X7, a hard armor ballistic, rifle-rated shield featuring the latest evolutions in armor technology.
Showcased at SHOT Show 2023, Las Vegas Nevada, the X7 is the first hard armor ballistic shield independently tested to various RF1 performance requirements set forth in the recently released ASTM ballistic shield test protocol. Building on the origins of the popular VENGEANCE™ Series handgun shields, deployed by many agencies across the country, BlueRidge Armor sought input from Law Enforcement personnel for the development of this next generation shield that meets real world requirements for routine deployment.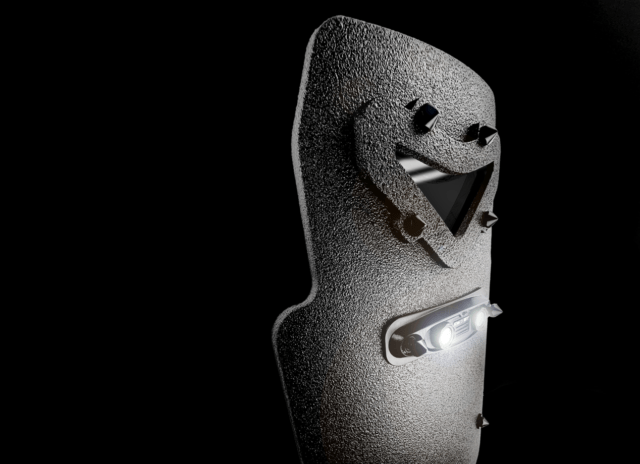 The X7 was exhibited in its most advanced curved platform featuring the patented Vengeance viewport and ballistic bezel system, Elzetta Design integrated grip and LED lighting assembly and Saber Torch high visibility ID panels.
Dale Taylor, BlueRidge Armor CEO says, "Watching today's headlines and listening to active law enforcement, it quickly becomes obvious that shields are needed for an added layer of individual officer and team protection. Our latest VENGEANCE X7 series meets the needs for a shield that is more capable in protecting against ever increasing rifle threats. Response at SHOT Show for the X7 was incredible with end use agencies showing a great deal of interest in the new ASTM performance requirements and protocol."
VENGEANCE X7 features include:
Patented VENGEANCE™ viewport with ballistic bezel system, for wide field of view
Elzetta EZH-R integrated rifle LED lighting system
Streamlined design curves around the user providing higher coverage
High-performance, lightweight ballistic composite for improved balance and center of gravity
Independently tested to various NIJ 0108.01 Level III and ASTM RF1 conditions
The RF1 rating requires rigorous ballistic testing against the 7.62×51 M80 NATO Ball, 7.62×39 MSC Chinese Type 56 and the 5.56 M193 NATO.
---
About BlueRidge Armor
BlueRidge Armor is an industry leader in the design engineering, development and manufacture of world-class bullet-resistant armor, ballistic shields and protective equipment for customers in law enforcement, elite tactical forces and the private security sector. Their products include a wide range of advanced standard and custom solutions which enhance tactical operation efficiency, safety and comfort. 
MISSION DRIVEN – PURPOSE BUILT
Contact information: BlueRidge Armor, 340 Industrial Park Road, Rutherfordton NC 28160, United States, [email protected], phone: 844-556-6855 web: www.blueridgearmor.com