December 7 has been commemorated in one way or another since the Japanese bombed Pearl Harbor in 1941. If you wondered how America and Japan quickly became allies after such a vicious war, the often told story of two men, one from Japan, the other from the United States, has a lot to do with it.
Their story was retold in The Spirit behind Badge 145. The following excerpt was taken from a chapter titled, From Enemies to Allies:
On December 7, 1941 at 7:55 a.m. Commander Mitsuo Fuchida, the most experienced pilot in the Imperial Japanese Navy, led two waves of 360 Japanese aircraft in the attacks on Pearl Harbor. The attacks lasted for more than three hours and eventually sunk or destroyed eighteen ships, including the battleships USS Arizona and USS Oklahoma. The attacks also destroyed more than three hundred of our grounded aircraft. While the loss of ships and aircraft were bad, the loss of life was far worse. The attacks killed twenty-four hundred people, eleven hundred of whom were entombed in the USS Arizona, and wounded twelve hundred more. Fuchida returned to Japan as a hero. He reveled in the accolades and called the attack on Pearl Harbor, "The most thrilling exploit of my career."
Jacob DeShazer was in the Army Air Corp assigned to KP (food services) duty on a base in Oregon. When he heard of the attacks he remembered throwing potatoes against the wall in anger and saying, "The Japanese would surely pay for this."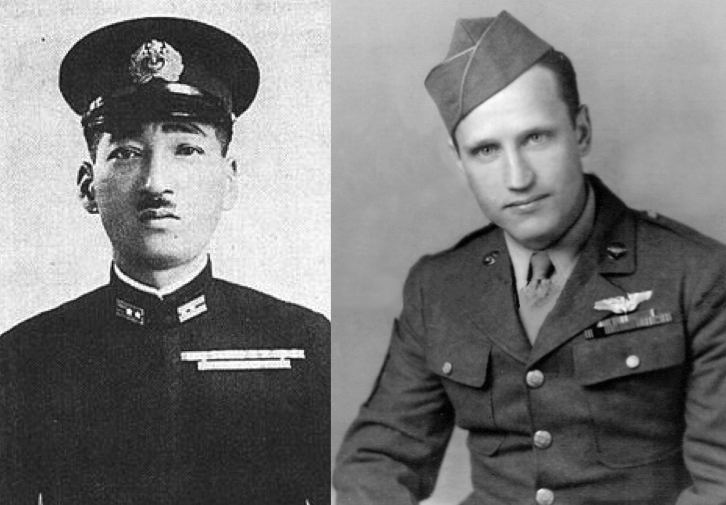 Due to the crippling of the American fleet at Pearl Harbor, America was losing badly in the Pacific in the early days of the war. Japan was certain America would roll over, and believed the most populated city of Tokyo was untouchable due to distance.
Lieutenant Colonel Jimmy Doolittle was asked to do the impossible, to plan a bombing raid on Tokyo. The plan involved launching sixteen—B25 bombers from the aircraft carrier, USS Hornet. Jacob DeShazer was one of eighty crewmembers who volunteered to be one of Doolittle's Raiders. DeShazer was a bombardier. On April 18, 1942, America took the first offensive action against Japan following the attacks on Pearl Harbor, when the Doolittle Raiders, against all odds, launched the attack on Tokyo. Due to the long flying distances, and the lack of fuel to fly to safe locations, fifteen of sixteen bombers either crash-landed or went down in the sea. DeShazer's plane crash landed in a portion of China invaded and occupied by Japan. He was captured and taken as a prisoner of war (POW) on April 19, 1942, along with eleven others.
In June of 1942 America engaged Japan in the Battle of Midway, a small island several hundred miles northwest of Pearl Harbor. Mitsuo Fuchida was to lead his squadron against the United States in this battle. However, a case of appendicitis sidelined him. This very well might have been the first of two divine interventions for Fuchida since Japan lost 322 aircraft during the air war portion of the battle and thirty-five hundred lives.
During the first few weeks of DeShazer's captivity, he was beaten, subjected to interrogations lasting for twenty-four hours, and nearly starved to death. He saw three of his fellow flyers killed at the hands of the Japanese guards. This intensified his hatred for them.
In July 1942 DeShazer was placed in solitary confinement for the next three years. He had no contact with other fellow POW's. He wondered if there were any solutions for the extreme hatred he had for his enemy. He began asking the Japanese guards for a Bible.
During the summer of 1944 DeShazer was finally given a Bible. He began to read it from cover to cover. As he read it, he began to understand how his own sin and hatred for the Japanese was actually keeping him from a relationship with God. As he read further he came to understand he could be reconciled to God through Jesus Christ. Romans 10:9 took on significant meaning to him: "because, if you confess with your mouth that Jesus is Lord and believe in your heart that God raised him from the dead, you will be saved."
DeShazer read the passage in Luke 23:34 where Jesus said: "Father forgive them, for they know not what they do…" as Jesus himself was being beaten and crucified. It was at that point DeShazer said he was able to forgive his captors for his treatment. He privately vowed to return to Japan as a missionary if he ever left captivity. He now felt free even though he was still a POW. DeShazer said he discovered a new set of spiritual eyes to see things as never before.
On August 5, 1945, Fuchida was in Hiroshima when he was summoned to Tokyo for an emergency military planning session. He left Hiroshima immediately. This was perhaps the second time his life was divinely spared. One day later on August 6, 1945, after each side lost several hundred thousand soldiers on the battlefields of World War II, President Harry Truman ordered the dropping of the first of two atomic bombs. The first was on Hiroshima taking the lives of seventy thousand people. Three days later the second atom bomb was dropped on Nagasaki virtually ending the war.
On August 15, 1945, Emperor Hirohito surrendered unconditionally to the United States. Five days later on August 20, 1945, Jacob DeShazer was released by the Japanese and returned to the United States where he attended Bible College in Seattle. Fuchida went into farming after the war, but was miserable and discontent in defeat.
On December 28, 1948, Jacob DeShazer and his family returned to Yokohama, Japan as missionaries. General Douglas MacArthur was re-establishing the government in Japan. He knew of DeShazer's presence and asked him to write a pamphlet to help heal the wounds between the two countries. DeShazer wrote the pamphlet, I was a Prisoner of Japan telling his story. On April 14, 1950, Fuchida was arriving at a train station in Tokyo when he saw DeShazer's pamphlet. He admired the Doolittle Raider's for their courage, even though they were his enemy, so he decided to read DeShazer's story. DeShazer's story resonated with Fuchida and even though he was a practicing Buddhist, he purchased a Bible.
The same passage in Luke that had such an influence on DeShazer had an influence on Fuchida only in a different sense. He felt he murdered so many people out of blind loyalty to the emperor that he was the person Jesus referred to when he said, "Father forgive them, for they know not what they are doing."
Mitsuo Fuchida asked Jesus Christ to forgive him, and to help him start a new life. Eventually Fuchida met Jacob DeShazer, and the two former enemies became allies—brothers in Christ, and shared a deep friendship. Fuchida became an evangelist and traveled throughout Japan from 1950–1966 sharing God's love and the forgiveness he experienced. Each one experienced the transforming power described in Romans 12:2: "Do not be conformed to this world, but be transformed by the renewal of your mind, that by testing you may discern what is the will of God, what is good and acceptable and perfect."
Fuchida passed away in 1976 at the age of seventy-four. DeShazer passed away in 2008 at the age of ninety-five. Both experienced a transformation beyond reason. The only answer is the freedom that comes from knowing Christ and the oneness that bonds fellow believers written about in John 17 and the reconciliation described in Ephesians 2.