LOS ANGELES — A Los Angeles Police Department pursuit in the Crenshaw District had a fatal ending when a driver of an SUV, suspected of DUI, crashed into a house, killing an 86-year-old woman and critically injuring her husband while they were inside the home, authorities said.
The incident began when a driver rear-ended an LAPD patrol car near Hobart and MLK Blvd. about 1:20 a.m. on Saturday, the department said in a press statement. The Southeast Division officers exited their unit and approached the vehicle that rear-ended them. However, the driver didn't stick around. LAPD said the suspect fled northbound on Western Avenue, and police engaged in a pursuit for reckless driving, KTLA reported.
The police chase progressed west on 39th Street, but the suspect lost control of his vehicle at Buckingham Road. As a result, the vehicle skidded off the roadway and crashed into the bedroom of a single-story home, according to police.
The elderly residents, a man and a woman, were trapped beneath the SUV that penetrated their home, LAPD said. The pursuing officers attempted to extract the trapped couple.
Aida Villavicencio, 86, was pronounced dead at the scene by responding paramedics. Her 90-year-old husband was transported to the hospital. He is listed in critical condition with head trauma, according to KTLA.
Eliseo Ixchopcalel, 26, was identified as the suspect. Upon his arrest, he was taken taken to a hospital in stable condition. Police said he was later booked on suspicion of gross vehicular manslaughter.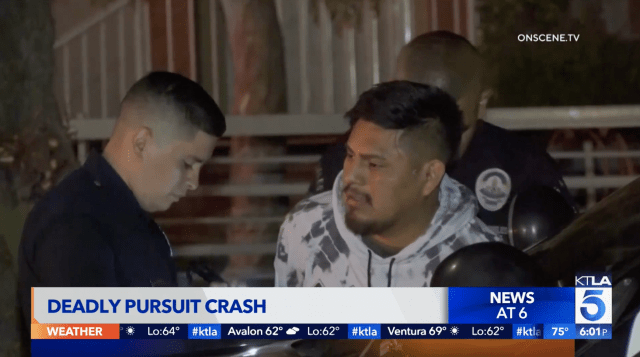 Paulina Zamudio, the couple's daughter, was also in the home at the time of the collision.
"She was a loving person, very generous, cared about people, a hard working immigrant" Zamudio said, speaking of her mother. "It's a great loss to us but everybody else that knew her also will miss her."
According to Zamudio, her parents were married for 66 years and had 5 children, the news outlet reported.
Los Angeles firefighters and the Southern California Gas Co. had to contain a natural gas leak that occurred during the wreck.