August 9th marks the fourth anniversary of Michael Brown's death.   The so called "Gentle Giant" attacked Officer Darren Wilson in his car and brutally beat him so bad, witnesses thought he had murdered the officer. Brown later charged directly at Officer Darren Wilson when Wilson shot him in self-defense. Brown's friend, Dorian Johnson, testified that Officer Darren Wilson shot the teen in cold blood, coining the infamous phrase, "Hands up, don't shoot."
Of course "hands up, don't shoot" became one of the biggest lies ever told and the demands for law enforcement change have been coming ever since.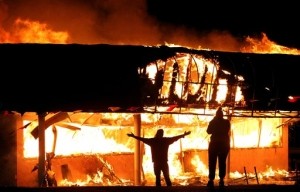 The Huffington Post reports that Lezley McSpadden and the organization Color of Change are "calling on Gov. Michael Parson to appoint a special prosecutor in the case," which now includes a petition calling Darren Wilson's acquittal by a grand jury "a miscarriage of justice and a complete betrayal of the primary charge for a prosecuting attorney."
The petition blames then-prosecutor Bob McCulloch for not indicting an innocent man.
"McCulloch completely ignored standard protocol for a Prosecuting Attorney by enlisting the help of a grand jury to determine the charges against Wilson. It was a setup from the beginning," the petition says.