ST. PETERSBURG, Fla. – A deputy in Florida was seriously wounded after he was struck three times by gunfire from a suspect who was "waiting" to shoot law enforcement personnel. A sergeant returned fire and killed the suspect on Sunday, according to reports.
Zion Bostick, 23, was identified by authorities as the deceased gunman. He was reportedly breaking into vehicles just before 7 p.m. in the 6300 block of 60th Avenue North in Pinellas Park, an unincorporated area of the county. A witness called to report the crimes. Bostick was spotted by responding deputies and subsequently fled on foot, the Pinellas County Sheriff's Office said.
Cpl. Matthew Aitken, 40, and his partner, K9 Taco, were accompanied by Sgt. Jake Viano, 49, as they tracked Bostick into a fenced backyard, where officials say the suspect was "waiting."
"The suspect was waiting for them and as the K9 and the handler cleared the building, that's when the suspect shot at the deputy," Chief Anthony Holloway of the St. Petersburg Police Department told FOX13 Tampa.
Police said the deputies followed the suspect and spotted him trying to hide behind a corner of a house.
Bostick opened fire, striking Aitken three times before shooting at Viano, officials said. Viano managed to avoid being hit, returned fire and killed the gunman.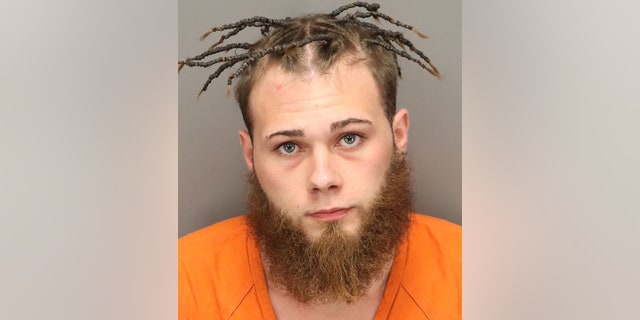 Aitken was shot in the neck, hand, and leg. He underwent surgery Monday morning and is recovering in stable condition, officials confirmed.
Viano and Taco were not injured in the shooting, FOX News reported.
Corporal Aitken was rushed to the hospital and is in stable condition. Neither Sergeant Viano nor K-9 Taco were injured.

Please join us in wishing Corporal Aitken a speedy recovery. (3/4)

— Pinellas SO (@SheriffPinellas) March 13, 2023
Sheriff Bob Gualtieri said if it wasn't for a second deputy who was at the call Sunday night, it's possible that Aitken would've been killed by Bostick, FOX13 Tampa reported. 
"If Viano hadn't run with him, he wouldn't be here today," Gualtieri said. "Viano was able to kill this guy before he fired additional rounds into Matt while he was laying on the ground."
It also worth noting that Bostick had a second firearm in his right pocket that had been reported stolen out of Manatee County, police said.
Chief Holloway said the St. Petersburg Police Department is investigating the deputy-involved shooting as part of the Pinellas County Use of Deadly Force Investigative Taskforce.
Bostick had an "extensive criminal history" and had been released from state prison exactly one year to the date before Sunday's shooting, according to the St. Petersburg Police Department.
Bostick's previous arrests include auto burglaries, drug possession, DUI and tampering with evidence, the station reported, citing jail records.