Rapper Lil Wayne may be the most surprising supporter of law enforcement and in the face of the Black Lives Movement, he has never wavered on that support. In a 2016 interview, Dwayne Carter Jr. also known as Lil Wayne was asked about Colin Kaepernick and he said that most don't want to hear his answer because he had been blessed his entire life and never had to deal with racism.
Telling Skip Bayless at the time, "I have never — never is a strong word — never dealt with racism, and I'm glad I didn't have to. I don't know if it's because of my blessings, but it is my reality. So I would have to say, not only I thought it was over, I still believe it's over, but, obviously, it isn't."
Those comments no doubt drew scorn from some and Wayne doubled down in November 2016 telling ABC Nightline that Black Lives Matter has nothing to do with him.
"I don't feel connected to a damn thing that ain't got nothin' to do with me."
The background of Lil Wayne's support comes from a childhood incident where he tried to kill himself after his mother told him that he could no longer rap because he was skipping school.
During an appearance on Emmanuel Acho's Uncomfortable Conversations internet series, the Louisiana rapper revealed that as a child, he shot himself in the chest but prior to that had called the police. After the shooting took place, Wayne went to the front door of his home where officers were trying to enter in response to his call. 
Former police officer Robert Hoobler got immediate medical treatment for Lil Wayne and ultimately it saved his life. 
Referring to Hoobler as Uncle Bob, Lil Wayne has long praised the officer for saving his life and now it has been revealed that Wayne has offered financial support for the former police officer if he ever needs anything.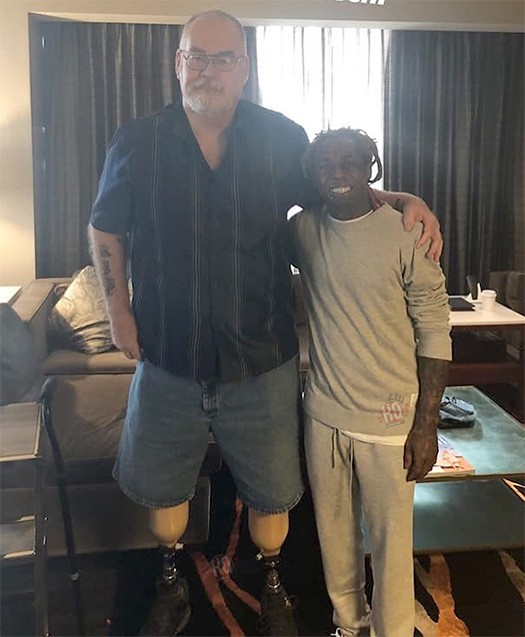 Hoobler told TMZ this week that he saw Wayne in 2019 and the offer was made and that all he needed to do was "say the word."
Lil Wayne's staunch support of law enforcement remains even though he is no stranger to the other side of the law.  He has been arrested on several occasions and pleaded guilty in 2020 after he brought a firearm on a private jet as a convicted felon. He was pardoned by President Trump on January 19, 2021, his last day in office.