Editor's Note: On November 30, 2018, Minneapolis Mayor Jacob Frey announced that a police officer would be fired "by the end of the day" for the decorating of this tree.  We made a mistake by stating that an officer was fired in our headline.  That had not yet occurred.  As of December 3rd, two officers have been suspended.
---
Minneapolis Mayor Jacob Frey says a police officer will be fired for a "racist display" in the form of Christmas tree decorations in the North Side precinct, though African-American community leaders say the damage is already done.
A photo circulated social media Friday showing the Fourth Precinct tree decorated with a Newport cigarette pack, a can of Steel Reserve malt liquor, police tape, a bag of Takis and a cup from Popeyes Louisiana Chicken — all items longtime civil rights activist Ron Edwards called a "wink wink" to racist stereotypes against black people.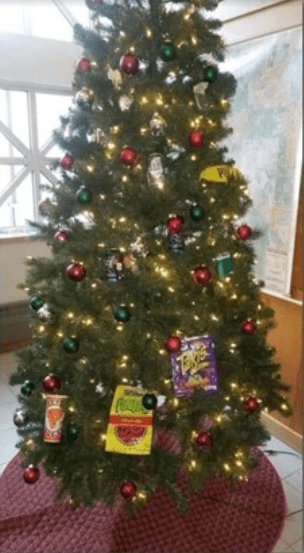 "It's a modern day version of a dog whistle, tainted with racism, specifically against the African-American community," he said.
Frey quickly responded to community outrage as the photo circulated Twitter and Facebook Friday morning.
"This behavior is racist, despicable, and is well beneath the standards of any person who serves the city of Minneapolis," said Frey in a statement. "The offending party will be fired before the day is over. Shifting the culture of the police department requires swift and decisive action. Termination is necessary — both to discipline the officer and to send a clear message: Chief Arradondo and I will not tolerate conduct that departs from our values."