Aug. 21, 2021
MIAMI – A hand gesture commonly used to signify "ok," or the number 3, has been targeted by woke liberals—like the anti-defamation league—to strictly mean "white power." A Miami police officer has been relieved of duty and is being investigated for making the sign. But now a picture has surfaced showing the police chief using the same gesture—sometime during the COVID era—while at the Houston Police Department.
Recently, Miami Police Officer Daniel Ubeda used the hand signal during a photo taken with partners at the department following a big gun bust. A commander posted the photo on Twitter.
However, someone noticed Ubeda at the far end of the picture flashing the hand signal, which got "some" making accusations that he's flashing a "white power" message. As a result, he has been relieved of duty while the department conducts an investigation, Local 10 reported.
"This was meant to be private between him and his six guys," said Tommy Reyes, president of the Miami Fraternal Order of Police, holding up his fingers. "It was not supposed to be posted on Twitter."
Reyes told Local 10 News the finger gesture meant "six" as in the number of colleagues on the officer's shift, not white power.
Reyes said he talked to Officer Ubeda. He said they discussed different hand signals and that he believed the one seen in the photo is different than one associated with white supremacy.
According to Reyes, both Ubeda's supervisor and the commander who tweeted the photo are black, and that they never raised any issues.
However, department brass apparently saw what the Anti-Defamation League says is the innocent "ok" gesture that was coopted by racists as "WP" for "white power."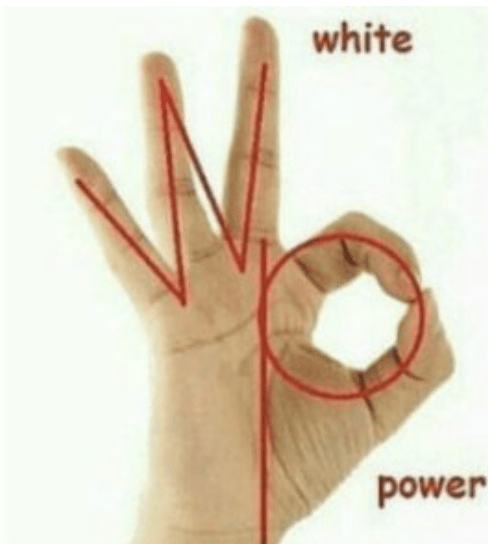 As a result, it quickly became the target of police leaders who are taking an investigative look.
When the local news outlet first published the story on Wednesday, Miami Police Chief Art Acevedo said Ubeda was, "…relieved of duty (Sunday) and an internal affairs investigation is ongoing."
Yet on Friday, Local 10 reported that a similar photo of Acevedo surfaced during his time as chief of police in Houston.
Chief Troy Finner of the Houston Police Department told Local 10 that he was present when the photo of Acevedo was taken where he was "throwing up the threes."
"That's at Jack Yates High School, Third Ward. There's so much pride. That's a historically African-American community in Houston. If you talk to any Third Ward person, they call it 'throwing up the threes," Finner said.
According to the news outlet, a quick online search showed many examples of Houston's Third Ward's sign of pride.
Reyes, while talking to the news organization, showed them a signal saying, "This signal he knows. This is, in our opinion, a whole different signal."
Reyes emphasized that Ubeda was signaling three and three — six — which represented the number of motormen on his shift; it was nothing to do with white power.
Nevertheless, Ubeda is under investigation, Acevedo is not.
---
UPDATE
Aug. 23, 2021
"'Do as I say not as I do' I guess it [is] what we should get used to from now on," Miami Fraternal Order of Police Lodge 20 tweeted, sharing an image of Acevedo when he was still Houston's police chief.
The photo shows Acevedo during a visit to Jack Yates High School in Houston last summer. That's the same high school George Floyd graduated from in 1993, and Acevedo visited on June 13, 2020 for a memorial, FOX reported.
Acevedo is seen using a gesture called the "tre," which represents Houston's Third Ward, Miami Mayor Francis Suarez explained to WSVN, arguing it "had nothing to do with White power."
But Miami Fraternal Order of Police President Tommy Reyes said the hand symbols Acevedo is making "are the same exact" of those Ubeda is making in a different photograph for which he was relieved of duty. Acevedo launched an internal affairs investigation into allegations of misconduct.
In a letter sent last week, the union president demanded Acevedo reinstate Ubeda to his full duties, clear him of any wrongdoing and apologize, categorizing the chief's move to suspend the officer as a "knee jerk reaction."
UPDATE: @MiamiFOP has emailed @MiamiPD Chief @ArtAcevedo demanding he apologize and reinstate the officer suspended for allegedly making "white power" hand gesture and circulated a pic of the chief making similar gesture #BecauseMiami pic.twitter.com/9axzDTQiKY

— Billy Corben (@BillyCorben) August 20, 2021
"This impulsive behavior has become a normal occurrence here at the Miami Police Department in the last four months since your arrival and is unacceptable," Reyes said.