HUNTINGTON BEACH, Calif. — Southern California police officers fatally shot an armed suspect in the sand in front of dozens of terrified witnesses, many who gathered at Huntington Beach for the U.S. Open of Surfing.
Officers were dispatched to reports of a man with a gun and located the suspect Saturday afternoon. When the armed combatant refused to comply with several commands, police opened fire, according to Huntington Beach Police Department spokeswoman Jennifer Carey, ABC News reported.
The gun toting suspect was transported to a local hospital where he was pronounced dead. He has not been identified.
A firearm was recovered from the scene, according to Carey.
Once the surfing competition concluded for the day, witnesses said several shots were fired south of the pier, near the bicycle and pedestrian pathway.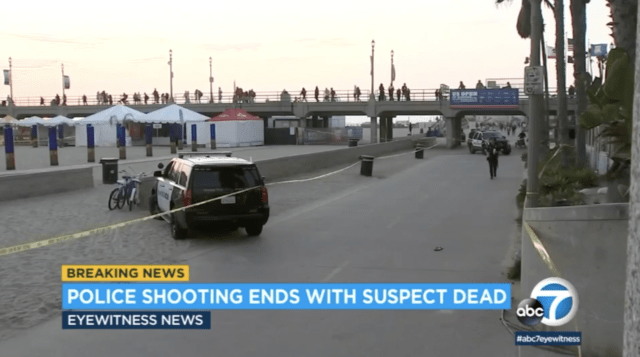 The suspect was reportedly rolling around on the sand when he reached for an object and police fired, which created havoc among the crowd, according to a witness video, ABC reported.
"We started hearing pop, pop, pop," Hector Tovar told The Orange County Register. "I thought it was fireworks, that's how many rounds there were."
Police officials said the officers' body cameras were activated during the shooting and the footage will be examined by Orange County Sheriff's detectives who will take the lead on the shooting investigation.
In the aftermath of the shooting, Huntington Beach understands the trauma it had on many witnesses and is offering help to those in need, they said in a press statement.
The City is offering emotional support services to anyone who witnessed or was in the area of the shooting incident that took place yesterday, September 25, at Huntington City Beach. Please see details provided.

In addition, a community meeting will be taking place in the coming days to address questions and concerns from those impacted. Details on that meeting will be released via our social media as they are finalized.