Benjamin Mendy is a prominent soccer player as well as Black Lives Matter activist. The man who claims to be a "supporter of the oppressed" has been charged with four counts of rape and one count of sexual assault, all crimes that are truly oppressive.
The French-born Manchester City star is accused of rape and sexual assault by three women, according to the BBC. One of the listed victim's is a minor. The attacks reportedly occurred between October 2020 and August 2021.
Mendy "showed no emotion" during an appearance at Cheshire Magistrates Court. He was remanded to custody and accompanied from court by two dock officers at the end of the hearing. He is set to appear at Chester Crown Court on September 10, the BBC reported.
Manchester City suspended Mendy after the allegations were revealed and the player was taken into custody. The club issued the following statement:
Manchester City can confirm that following his being charged by police today, Benjamin Mendy has been suspended pending an investigation.

The matter is subject to a legal process and the Club is therefore unable to make further comment until that process is complete.
According to Sportrac, Mendy is currently in the fifth year of a six year, £28,080,000 contract with the team, which is more than $38 million in U.S. dollars.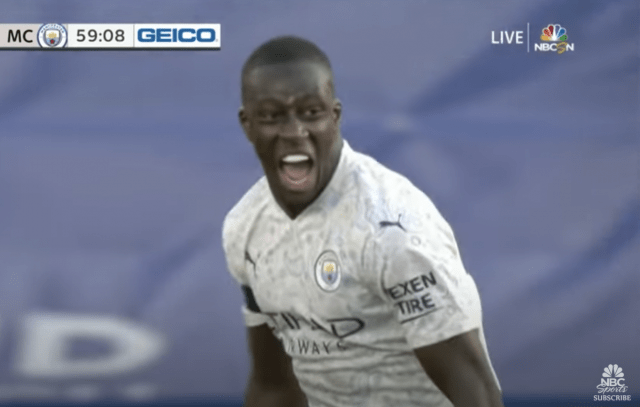 Mendy has staunchly supported BLM on many occasions. His advocacy has included wearing jerseys with "Black Lives Matter" stenciled on them, Post Millennial reported.
Back Like Mendy #BLM ✊🏿 pic.twitter.com/yJew4mJ6Hi

— Benjamin Mendy (@benmendy23) June 17, 2020
English actor and activist Laurence Fox took to Twitter in response to the charges, according to The Daily Mail.  He wrote, "Get kneeling, f*****s."
As a result, the tweet was promptly flagged by Twitter and his account was briefly suspended, PM reported.
The outspoken actor proceeded to post a Twitter thread, slamming soccer players for their hypocrisy and moral grandstanding.
One message read, "Perhaps in light of the most recent m case, they should take the knee to the victims of sexual assault & rape? To own their own mess? After all, these are not crimes committed by police officers 1000s of miles away, but by broken role models from within their own ranks?"
2 – Perhaps in light of the most recent m case, they should take the knee to the victims of sexual assault & rape? To own their own mess? After all, these are not crimes committed by police officers 1000s of miles away, but by broken role models from within their own ranks?

— Laurence Fox ✌🏼🇬🇧✌🏼 (@LozzaFox) August 27, 2021
In response to his own comments, Fox wrote, "But they won't. It's easier to project their piety in the name of racial justice than to look to the sins committed by their colleagues."
In a follow-up, he said, "This is why I have consistently rejected being lectured by professional footballers…"
4 – This is why I have consistently rejected being lectured by professional footballers. They're hypocrites: mega-rich babies who readily & ludicrously take the position of the oppressed, when all too often they have been the ones abusing their huge power for nefarious reasons

— Laurence Fox ✌🏼🇬🇧✌🏼 (@LozzaFox) August 27, 2021
Continuing, Fox referred to the professional athletes as "mega-rich crybabies who readily & ludicrously take the position of the oppressed, when all too often they have been the ones abusing their huge power for nefarious reasons."
Naturally, in the day of cancel culture, he clarified that his tweet had nothing to do with race, but he was "instructing footballers to kneel for the victims of rape & sexual assaults committed by footballers."
6 – Instead I was instructing footballers to kneel for the victims of rape & sexual assaults committed by footballers – a point none of the usual, vocal campaigners picked up on ad they clamoured to shoot the messenger & once again avoid the inconvenient message

— Laurence Fox ✌🏼🇬🇧✌🏼 (@LozzaFox) August 27, 2021
Concluding, Fox exhorted, "a point none of the usual, vocal campaigners picked up on ad (sic) they clamoured to shoot the messenger & once again avoid the inconvenient message."