LOS ANGELES – Shocking video surveillance shows a crazed man pulling out a knife before he reportedly stabbed a teen to death in Los Angeles last week. Several hours after the attack the man is accused of stabbing another person who survived. The suspect was taken into custody after a standoff with police on Wednesday, according to reports.
The Los Angeles Police Department released video that shows the suspect — identified as 32-year-old David Zapata — walking through a parking lot on Valley Boulevard in the Los Angles neighborhood of El Sereno last Friday about 4:00 p.m. and pulling out a large blade just prior to the fatal attack.
Zapata is seen brandishing the knife and taking an aggressive posture just before the video is frozen. Police said he then stabbed 17-year-old Xavier Chavarin, the Los Angeles Times reported.
Once he was stabbed, Chavarin sought help at a local King Torta shop before he collapsed on the floor, witnesses said, according to KTLA. The teen — described by family as a straight-A student at nearby Woodrow Wilson High School — did not survive.
The knife-wielding assailant reportedly stabbed a second person — described as a 33-year-old father — several hours later. Fortunately, the man survived, according to authorities.
Police received a tip that Zapata could be located at a residence in Alhambra. Officers responded to the home Wednesday morning and the suspect barricaded himself inside, the Los Angeles Times reported.
LAPD personnel established a tight perimeter around the home on Westmont Drive about 7:00 a.m., Cmdr. German Hurtado said.
A crisis negotiator and a mental health team, along with the assistance of Zapata's mother, managed to persuade him to surrender. No one else was inside the house at the time of his arrest, the New York Post reported.
Zapata was taken into custody after he barricaded himself in his home on Wednesday. (Screenshot

KTLA)
"I don't want to taint the investigation, [but] he is not going to be able to hurt anyone else," Hurtado said, adding that Zapata had a history of mental health issues and that Alhambra police said he'd "been a problem in this neighborhood."
Zapata was booked into jail and his bail was set at $2 million.
Zapata was seen with a skateboard when he reportedly attacked another person. (

LAPD)
Chavarin's mother, Laura Frias, said her son had been waiting for her outside a restaurant when he was fatally stabbed multiple times in the back, KNBC-TV reported.
"It breaks my heart, the fact that they just took him away from me," Frias told the news station. "I don't know what to say. [I am] just so heartbroken. He was my love, my everything."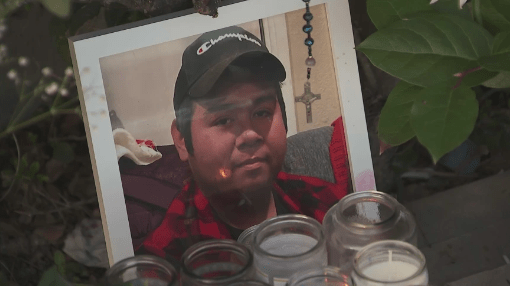 Los Angeles City Councilman Kevin de León's district includes the site of the deadly attack. He said the city's streets "are the largest psychiatric ward in the United States," the Los Angeles Times reported.
"Unfortunately, it has become quite normalized in Los Angeles for someone to walk up to someone and snap and walks away freely, or just hits someone," de León noted.
"There's no question about it — he's suffered from severe mental illness," he said of Zapata.
De León reflected on the murder victim who had a promising future and was a "great big brother" and a fantastic son.
"He loved playing Legos. He loved playing with his Xbox. He loved fast cars, and he loved drawing," de León mentioned.
Los Angeles Unified School District Superintendent Alberto Carvalho visited a memorial for the slain teen and said the stabbing was "an awful event."
"When something goes wrong with a kid like that, the entire community should bow its head. We have to think about what's happening in Los Angeles," he said.