Providence Police Officer Edmond Malloy Jr., died Thursday, almost five years afetr being diagnosed with Stage 4 metastatic liver cancer. A diagnosis where he was given just a year to live, this hero not only fought and defied the odds, he inspired thousands across the country.
On October 2014, Air Force One touched down at T.F. Green Airport, President Obama stepped into a black limousine, and the motorcade sped away, led by Providence police Officer Edmond F. Malloy Jr. on a motorcycle.
As he pulled away from the tarmac, heading toward Interstate 95, Malloy felt a sharp stab of pain in his back. "It felt like someone shot me," he said. "I yelled out so much my partner was like, 'Are you all right?' I said, 'I don't know.' "
As it turned out, a tumor on Malloy's liver had ruptured. He was bleeding internally.
But the former Marine kept going, gunning his Harley-Davidson Road King to 80 miles per hour as the presidential motorcade sped north to Providence. "I was just focused on getting the job done," he said. "I don't know how I made it."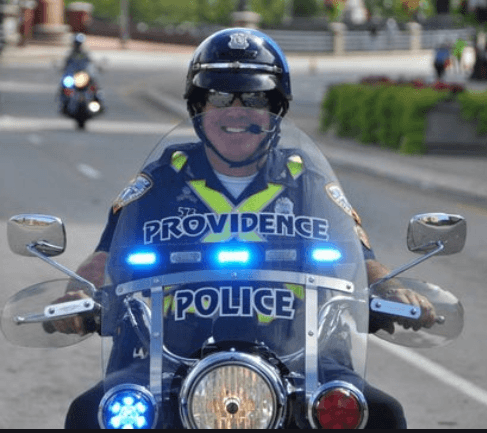 When the motorcade reached the Omni Providence Hotel, Malloy put the kickstand down and collapsed on the bike. "Get me to the hospital," he told another officer.
The average survival rate for advanced liver cancer is only about a year but just this July, close to five years after his diagnosis, Malloy Jr. had crossed the finished line at the Rising Above Cancer 5K Run/Walk in Warwick City Park.
Over five-hundred other runners had shown up wearing green-and-yellow "Malloy Strong" T-shirts. Malloy was 51, running races, syill working for the Providence Police Department assigned to the FBI Joint Terrorism Task Force.
He had nothing prove but he was still doing it each and every day.
The community of Providence is devastated by this loss of a great man but his legacy will no doubt live on forever.
On behalf of Law Officer, we extend our heartfelt condolences to the Malloy Family, the Providence Police Department and everyone that has been touched by this great man.
To honor Officer Malloy Jr.,m you can buy a "Malloy Strong" Bracelet where the proceeds will go directly to the Malloy Strong Patient Care Fund at Lifespan Cancer Institute in RI Hospital.
BUY THE MALLOY STRONG BRACELET HERE