An Arkansas police officer has been charged with killing a fellow officer who knocked on his door.
Calvin Nicholas "Nick" Salyers, 33, of Alexander, is charged with manslaughter in the June 3 slaying of 36-year-old Scott Hutton.
The arrest affidavit accuses Salyers of acting recklessly when he shot Hutton.
According to KIRO7, Hutton had driven to Salyers' address to pick up a patrol vehicle that was parked in a metal building next to Salyers' home. At 7:09 p.m., he called Salyers' cellphone, but Salyers didn't answer.
Hutton then tried texting his colleague.
"Are you awake?" Hutton texted Salyers, according to the affidavit.
Hutton pulled into Salyers' driveway, climbed up to the porch and knocked on the door. Salyers and his girlfriend, Ashlee Cummings, were inside, lying together on the couch and watching a movie.

"When they heard the knock, Salyers told Cummings that he would see who it was and grabbed his Glock .40-caliber handgun and went to the door," the affidavit states.
Salyers told investigators he looked through the peephole and saw a figure standing on the porch. The person wore a dark shirt and had a gun on his hip, according to the document.
"Salyers stated that he transferred his weapon from his right hand into his left hand and reached for the door knob and, as he opened the door, the gun went off, firing a round through the front door."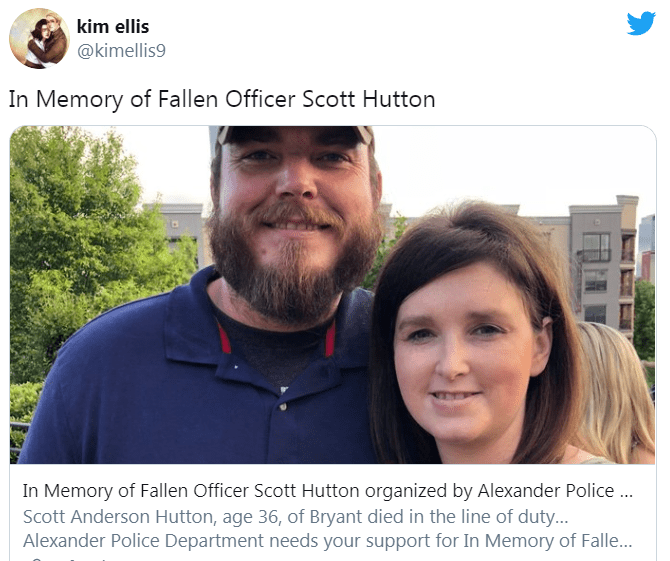 Salyers told investigators he realized who the figure was only after he saw Hutton fall off the porch.
Salyers and Cummings called 911 from Cummings' cellphone.
"Salyers identified himself as an Alexander police officer and stated that they needed an ambulance, that an officer was down."
State Police searched Salyers' home, where they found a single bullet hole through the front door, near the peephole. The bullet went through the main door and through a glass storm door before striking Hutton.
The slain officer was wearing a black polo shirt, khaki tactical pants and a police gun belt. His badge was on the belt next to his holstered firearm, the affidavit states.
Salyers was booked into the Saline County Jail with bail set at $15,000.
Following Hutton's killing, Arkansas Governor Asa Hutchinson ordered flags to be flown at half-staff in his honor.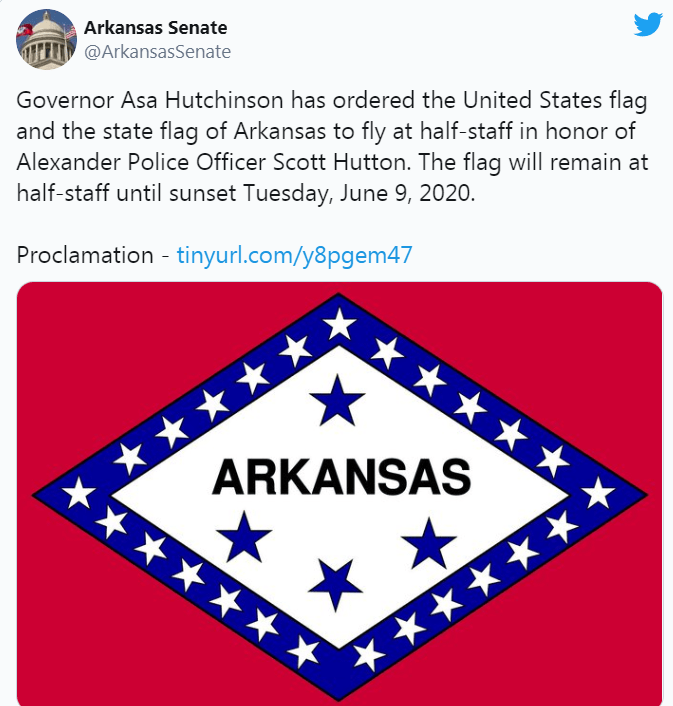 Hutton had served two tours in the U.S. Army National Guard.
Hutton leaves behind his wife of five years, his parents and a brother.