MCALESTER, Okla. – A police department in Oklahoma with 45 full-time sworn personnel suffered its second death within the past week when one of their officers did not survive injuries sustained in a head-on collision.
The McAlester Police Department announced that Patrolman Joseph Barlow died Monday after succumbing to his injuries. On Thursday, Capt. Richard Parker was found dead in bed after he didn't show up for work. The crash that ultimately claimed Barlow's life occurred Friday during an escort for Parker.
Police officials said Barlow was surrounded "by many family, friends and local law enforcement officers" when he passed away on Monday at St. John Medical Center in Tulsa. He served his country and the community of McAlester "with great pride," they said.
"We ask that you keep Officer Barlow's friends, family, and community in your thoughts as they grieve this great loss and continue to cope with recent tragedies," the department said.
Several McAlester officers travelled to Tulsa Friday to escort Parker's body from the medical examiner's office to a funeral home in Wetumka.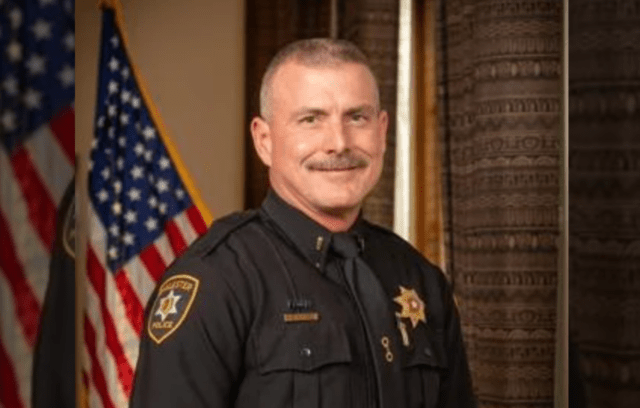 However, on Friday at about 6.27 p.m. the Glenpool Police Department responded to a head-on collision that occurred on Highway 75 just north of 151st St. South, McAlester News-Capital reported.
Martin Rodriguez was driving a black Ford F-250 pickup truck when he failed to stop for the law enforcement procession and swerved to avoid hitting a stopped vehicle. The truck then crossed the center median and struck the McAlester police unit head-on, according to Glenpool Police.
Barlow had to be extracted from the patrol vehicle and was rushed by ambulance to St. John Medical Center in Tulsa where he underwent multiple surgeries before his death on Monday.
Rodriguez was booked on misdemeanor charges of reckless driving, operating a vehicle without a driver's license in possession, and a felony count of causing great bodily harm while driving without a driver's license. U.S. Immigration and Customs Enforcement also placed a hold on him, according to Tulsa County Jail records.
Since Barlow did not survive the crash, Rodriguez is likely to face additional charges.
Barlow graduated from McAlester High School in 2015 and served in the U.S. Army prior to employment with the Oklahoma Department of Corrections. He was sworn in as a patrolman for the McAlester Police Department on Aug. 12, 2021, the news outlet reported.
"We have received an outpouring of love, support and prayers which we are grateful," said a statement from the Barlow family over the weekend. "As a family we have been overwhelmed with all the support. Our family has needed these thoughts and prayers."
Law enforcement officers and first responders from across the county gathered along with members of the public Saturday afternoon for a prayer vigil on the steps of the McAlester Police Department. The event began at 1:14 p.m. — to coincide with Barlow's badge number, 114.
"People want to be negative about who we are in McAlester and focus on what's bad," said Pastor Terren Anderson of Life Church in McAlester. "This is everything that's beautiful about this community, right here today. It doesn't matter who we are; it doesn't matter our background, it doesn't matter our skin tone. We are family."
Lt. Mickey Virden of the McAlester Police Department said in a social media statement that March 17 is a day that will live with him and fellow officers.
"As I turned around and came back to the scene, I saw three brothers doing what we do every day for perfect strangers, but now it was for one of our own. Headfirst into a dangerous situation and giving lifesaving measures," Virden wrote. "I'm so proud of them."
Virden thanked the Glenpool first responders from the crash scene as well as the Oklahoma Highway Patrol and the Muscogee (Creek) Nation Lighthorse Police Department for finishing Parker's escort to Wetumka, according to the McAlester News-Capital.
"To the citizens of McAlester. Our department is hurting, but we will continue to serve." Virden wrote.