DALLAS – The Dallas chief of police is on the hot seat as homicides in the city soar. Police officials on Monday said the city is on pace to end the year with about 228 homicides — a total that would surpass any year in the past decade.
As a matter of fact, that amount would nearly double the 116 homicides the city recorded in 2014. Consequently people are unhappy.
Members of the City Council's Public Safety and Criminal Justice Committee on Monday pressed the Police Department's top brass for more information on strategies to combat the increase in violent crime this year. At times, committee members expressed dissatisfaction and frustration with commanders' answers.
Committee chairman Adam McGough, who requested the special briefing, said the city has a "perception issue." Criminals in Dallas, McGough said, believe they can get away with crime because the Police Department is understaffed and the Dallas County district attorney's office has decided not to prosecute some low-level offenses.
And he put Police Chief U. Renee Hall on the hot seat for that, reported The Dallas Morning News.
"The issues that we face to change that perception does come back to the chief," McGough said. "We have got to hear messages from you and the Police Department that we will not tolerate crime in the city of Dallas."
Hall tried to assure council members the department had a plan to address gangs, guns and drugs and to collaborate with other law enforcement agencies.
"Since the day I walked through the door, there has been a focus to reduce violent crime," Hall said. "There's nothing to assume that the Dallas Police Department under my leadership or any other leadership is soft on crime."
Under fire
Hall has come under fire in recent weeks because of the uptick in homicides, aggravated assaults and robberies. As a result, public safety became a top issue in city elections, according to the report.
Last week, City Manager T.C. Broadnax tried to quell any uncertainty surrounding Hall, saying she would be his police chief as long as he was in City Hall's top job.
Nevertheless, others may not feel the same way.
Hall is under additional scrutiny from elected officials. Newly elected City Council members David Blewett, Cara Mendelsohn, Adam Bazaldua, Paula Blackmon and Chad West attended the meeting on Monday. (Philip Kingston, the committee's vice chair, was absent after he lost his seat to Blewett).
The chief said the department will beef up patrol, increase enforcement and work with local agencies to execute warrants in eight high-crime areas.
Hall said the department's neighborhood police officers will be active within the focus areas. She also has reached out to religious leaders, scheduling an upcoming gang awareness summit led by Bishop Omar Jahwar.
Furthermore, Hall said the department will send mounted patrols to a location in South Dallas, where a woman was recently slain. Furthermore, she plans to deploy additional patrol officers to Rochester Park in southeast and Bachman Lake in northwest, where she said large crowds and violent crime are too common.
Soliciting help from the Texas Department of Public Safety last week, Hall and Gov. Greg Abbott announced the state would send troopers to help as well. On Monday, Hall said the department had not received information on the number of DPS troopers coming to Dallas.
Dallas Police Association President Mike Mata said that DPS help is a "very small Band-Aid" to deal with crime in the city.
"Those resources can't stay forever," Mata said. "At some point, a leader of a police department has to come up with innovative solutions to reduce substantially increased violent crime numbers."
During the meeting, Hall said nearby cities such as Grand Prairie, Plano, Frisco and Lewisville have also experienced an uptick in crime. But those cities have much smaller populations and had lower crime numbers anyway. For example, her chart showed that Frisco — with one homicide so far in 2019 compared to none in 2018 — had a 100% increase in homicides.
Dallas, which is about 10 times larger in population than Frisco, has reported 97 homicides so far in 2019 compared to 40 homicides at this time a year ago. In 2018, the city recorded 161 homicides all year.
The comparisons to other North Texas cities didn't move council member Jennifer Staubauch Gates. She said she was "concerned and a little perplexed" about why Dallas is seeing an increase that's much larger than those cities.
Social concerns
Council members in southern Dallas also raised concerns about the department's staffing struggles, but said the council needs a holistic plan to address crime. Council member Carolyn King Arnold's Oak Cliff district had nine of the city's 40 homicides in May, according to The Dallas Morning News.
Arnold said that police officers are a crucial part of public safety, but that the incoming new City Council needs to act on projects "that address equity."
Arnold said southern Dallas needs better employment opportunities, housing and education.
"I think we need to be honest that we have failed to deliver and address the root causes of crime," Arnold said. "I want to address those core issues that we fail to act on as a council."
Hall recently made a similar statement — and faced a major backlash. At issue was Hall's comment that some people are "forced" to commit violent crimes because they face economic hardships.
Specifically, she said, "There are individuals in this city who have returned from prison who cannot find a job, who are not educated. In those instances those individuals are forced to commit violent acts."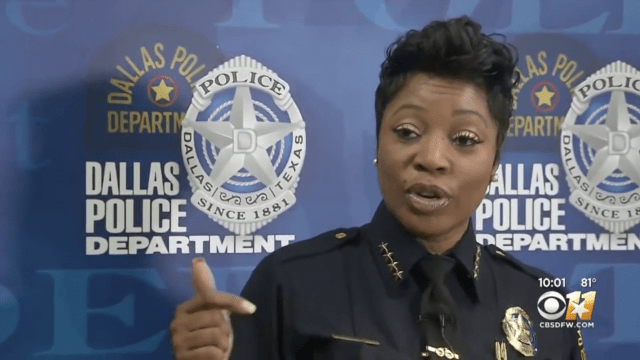 Among the vocal opposition included Mata, who told CBS 11 in a statement:
By saying people who are ex-offenders "choose to commit violent acts" places the blame on the offender but still alludes to their criminal past being an excuse. 

The Chief saying that people  "forced to commit violent acts" it places the blame on society and makes the offenders the victim. I don't believe anyone is forced to violently attack another person. 

I believe in sentencing guidelines reform and educating violators prior to releasing back into society so they can have the best possible chance of not re-offending but we also have to be accountable for our own actions and never in any way validate an excuse to commit a violent act. 

Hall and social justice advocates who came to her defense said the comment, in spirit, was about the connections between crime, poverty, second chances and recidivism.
Her comments also followed Dallas County District Attorney John Creuzot's controversial announcement that he would stop prosecuting some thefts of items of necessity and other low-level crimes. Creuzot had said the DA's office shouldn't prosecute people for being poor.
McGough again drew the parallels between Hall's statements and Creuzot's policies.
But Creuzot on Monday called McGough's statement about perception encouraging crime "patently false." The DA declined further comment. He has previously said that his office will prosecute violent crimes, and that his policies apply mostly to first-time, low-level offenders for property crimes.
Hall also rejected McGough's comparison, saying that her officers will continue to make arrests "on all levels" of crime and that "attaching the DA" to her as a police chief "is not fair."
"The DA makes his decision on what he wants to do," Hall said. "I have said in front of this council we will continue to make the arrests. Lew Sterrett is still open. My troops know that. My command staff knows that. I believe the community knows that."