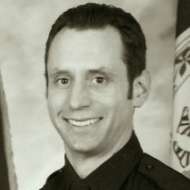 William Gage is an experienced and award winning law enforcement professional that recently returned to local law enforcement with the Leesburg VA Police Department, after a 12 year career as a Special Agent with the United States Secret Service. During his 12 years with the Secret Service, he was the recipient of numerous awards for investigative and protective excellence. He has participated in hundreds of protective missions, and has done numerous foreign and domestic foreign protective advances for the President, Vice-President, and others. These included protective missions to hostile areas such as Iraq, and Afghanistan. William also served as the Lead Tactical Advance Agent for numerous National Special Security Events (NSSEs), and served as a Team Leader on the elite Counter Assault Team (CAT) focusing on active shooter response, threat mitigation and planning at the White House and other U.S. Government functions and facilities. Prior to joining the Secret Service, William was a Police Officer in Leesburg, Virginia where he received awards for exceptional performance. During his time as a Police Officer has as served as a SWAT Officer, and Bike Officer. He returned to local law enforcement in 2013, and returned to the Leesburg Police Department and currently works Patrol. William also works as an active shooter and security consultant with several companies, including PSIG, BLR, and Willis. He has given numerous public presentations about active shooter awareness, training and preparation and has appeared on various other media outlets including CNN and CSPAN. He also helps businesses with continuity of operations planning and logistics. He has written for several law enforcement and security journals, to include Law Officer, Police One, Tactical Solutions Magazine, and others. He holds a B.A. from the Virginia Military Institute, and an M.A. from Boston University.
This user account status is Approved
This user has not added any information to their profile yet.