Union County (Arkansas) Sheriff Ricky Roberts recently apologized for booking photos emerging of prisoners wearing Nike shirts. He had been accused by journalist Shaun King of using the shirts to mock the protests of Colin Kaepernick. King is no stranger to deception. He recently pushed a story of a Texas Trooper sexually assaulting a woman which was a hoax. The Trooper he named received death threats and King refused to apologize.
But this is not about Shaun King.
This is about another law enforcement leader apologizing for doing nothing wrong. The "gaslighting" of America Law Enforcement must stop and while I don't expect King or those like him to stop, we certainly should.
Sheriff Roberts explained that the Nike apparel had been used for months along with other shirts and they are utilized when prisoners do not have proper attire for a booking photo.
That is where the explanation should have stopped.
Roberts continued, "we have taken steps to rectify this issue and ensure that this will never happen again. I understand the concern of those who may have found this offensive, and for that, I apologize."
Law enforcement must get back to law enforcement and King's only desire here is to gain attention for himself and to have Sheriff Roberts take his eye off of the mission, which should be to enforce the law and put criminals in jail.
I understand we live in strange times where anyone, anywhere can get offended and an apology must come swift and certain or complete destruction of that individual will happen, whether they are innocent or not.
But everyone, including law enforcement, must know this.
If we continue to bow down to anyone that gets offended, when we have done nothing wrong, we are already destroyed and law enforcement is crumbling from the tired and abusive assaults from those that frankly don't deserve our attention or apology.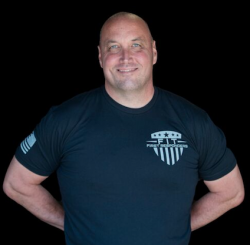 Latest posts by Travis Yates
(see all)