Wellington (OH) Police Chief Tim Barfield has decided not to comply with Governor John Kasich's standards for police policy in regards to the use of deadly force.
Executive Order 2015-04K formed the Ohio Collaborative Community Police Advisory Board in 2014 to "strengthen the fractured relationships that exist between law enforcement and some communities."
Chief Barfield told The Wellington Enterprise that the Executive Order is "a political answer to a situation that doesn't even exist."
I couldn't agree more and I applaud Chief Barfield for doing what is right for his community and agency.
Chief Barfield indicated he will hire Lexipol which is a nationally recognized risk management firm with policies for the state of Ohio.  I have personally worked with Lexipol and this is why Chief Barfield is right on so many levels.  Their policies comply with every court decision both state and federal and they have been in the business for decades.  When the courts change, so do the policies from Lexipol and they do that instantaneously.
In fact, Ohio agencies can use Lexipol's use of force policies to meet the use of force standards required by the state. While no formal or official relationship exists between Lexipol and the Collaborative, Lexipol has been working closely with the group since the inception of the certification program. The company's policies, training content and accountability tools can help agencies meet the state standards, and many of Lexipol's 200 Ohio law enforcement customers are pursuing state certification.
However, the issues identified by Governor Kasich's group do not apply to every agency and community.  Chief Barfield described the standards as being built with cities and larger communities in mind while lacking specifications for areas like his own. Lexipol's policy management solution can be used whether or not an agency chooses to pursue Ohio state certification. Lexipol is non-political and 100% centered around "legal".  I'll take that any day over politics, that by the way changes like the wind.
While the Governor's Board has done a decent job and my review of their work is in line with some best practices, forcing every agency to comply is not what needs to be done.  Some agencies are doing a great job on their own and others, like Barfields, has found a great solution that they are comfortable with.
Chief Tim Barfield did what many leaders in law enforcement are either unwilling to do or too weak to do.  He stood up and made the right decision for his agency, his community and his individual officers.  Despite threats from the state, Tim stands tall and remains a "Courageous Leader" in an ocean of weak, scared department heads.
I knew Tim before he was a police chief and I can honestly say his character, wisdom and sense of right and wrong is as top notch as it gets.  He has once again proven that there is hope for this profession and it's leaders.  All anyone has to do is watch what Chief Tim Barfield does.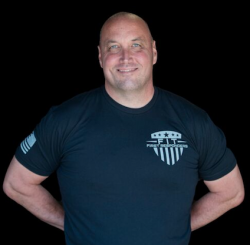 Latest posts by Travis Yates
(see all)