A policeman in North Little Rock, Arkansas, has been diligently stewarding his community and meeting its needs in every way he can, exuding pure police heart and blessings for those on his beat.
Corporal Tommy Norman is famously a man about town. The children in North Little Rock admiringly refer to him as their best friend. The youngsters always call him "Officer Norman," respecting his law-and-order responsibility while embracing his humanitarian spirit of giving and being present, especially where dire needs are.
Fundamentally, though, Officer Norman learns of the needs of others and networks with sources that send provisions, especially for the children, notably before the school year and holidays.
And that was what influenced this piece you are reading: gobs of examples of a blue-uniformed cop manifesting humanitarianism for others…and he gives gratitude galore in the process of serving.
That brief video collage was posted five years ago by a national network's Humankind segment. Lately, this local LEO has been spreading his special brand of brotherly love right where he lives and works.
"Paul was Looking for a Friend but Found a Brother!"
One of the myriad citizens Officer Norman has befriended stems from a patrol day whereby a gentleman named Paul who recognized the man about town, a community-oriented policeman, sitting in his North Little Rock police cruiser stopped at a traffic signal.
"About a month ago [May 2023] while I was working, Paul walked past me while I was stopped at a red light and yelled 'Officer Norman, can I buy you a cup of joe?' I told Paul I was busy but I'd be back to his house to visit.
"I came back the next day and multiple days since then. Paul even went and purchased chairs for us to sit in his front yard (he only had one). We've become 'brothers,' as Paul calls us. Who would've thought that an encounter at a traffic light would lead to a lifelong relationship?"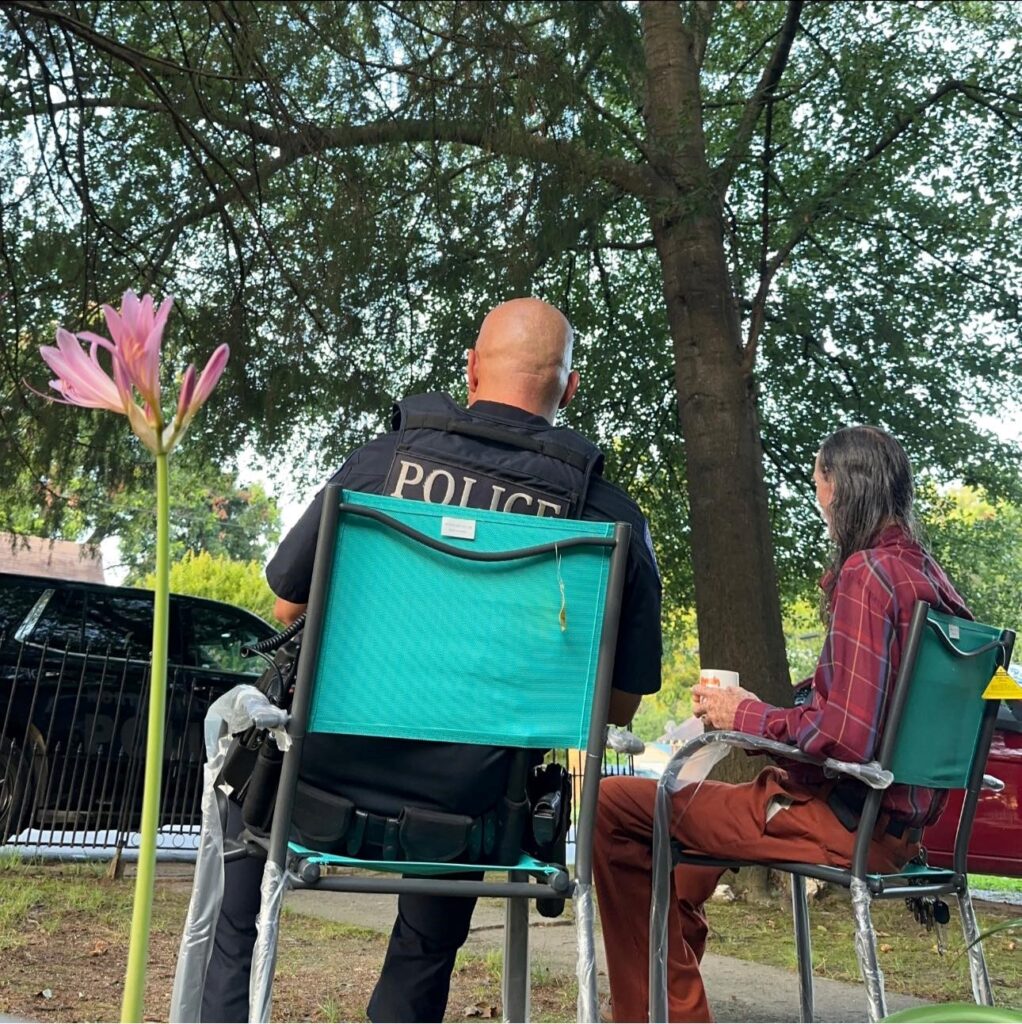 (Photo courtesy of Officer Norman.)
As an NLR resident commented about Paul and Officer Norman becoming acquaintances, "That was definitely a God moment."
Thank God there are many moments just like it!
That affirmation describes one of the many uplifting episodes I enjoyed as a police officer, too: developing rapport with people in the community, many of whom, in time, after a chance meeting somewhere in the city, got to know one another and become familiar with each other's persona, serving as supports in bad times and great friends in good ones.
Yet cops are not only giving of themselves in an official capacity as cops on duty; they also dedicate their time to good causes as volunteers toward objectives requiring ambidexterity and grace.
Manning the 'Victory Over Violence' Telethon Phones
On his own time and donning blue of a different sort, Officer Norman worked the phone bank at the "Victory Over Violence" telethon. When it was all said and done, he wrote, "Another successful year at the Boys and Girls Club of Central Arkansas 'Victory over Violence' telethon!" Sounds like this was not a one-off, which is not surprising.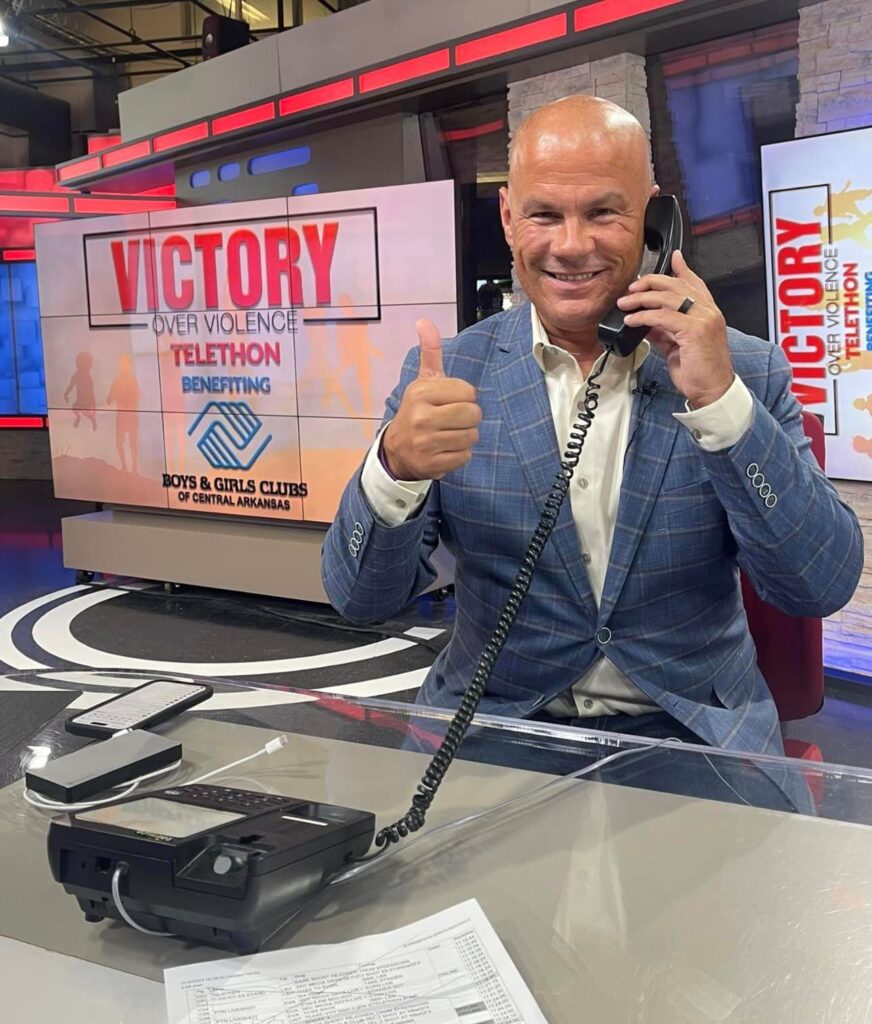 (Photo courtesy of Officer Norman.)
They are All Special Cases
An ailing elderly woman in the North Little Rock jurisdiction was comforted by this caring cop who perched in a recliner while she rested, often muttering spiritual messages to him, at one point requesting he stay when he mentioned departing so she could slumber.
"Went to visit Miss Emma after work today. When I told her I needed to leave, her response was 'Please don't go.' So, I made myself comfortable!"
That says everything about souls relishing kindred spirits of sorts. The image portraying such a humanitarian gesture and the heartfelt conversations held between them can be found on his Instagram page, around September 20 or so. There, you will see what I have highlighted herein…and a bevy of other phenomenal police work on behalf of many.
Without sullying this gracious cop's relentless giving to the community he serves, one of the major things he combats as a cop is poisonous narcotics sales, seeing first-hand the devastation drugs cause to users and families who witness breakdowns in their loved ones.
Such a tragedy struck Officer Norman, personally…
Alyssa Norman
As a glowing giver to his community, Officer Norman experienced utter loss when he received the call that his daughter, Alyssa, overdosed. His words tell us all about the instance sending life into a tailspin…and how some good came from it:
"Alyssa brought the world together," holds heartstrings, as does the fact that this policeman, despite suffering unfathomable loss, forges forward with love, kindness, and worldly caring.
"Preacher Man"
We turn to another forged friendship depicting uniformed Officer Norman and a young boy he refers to as "Preacher Man." What we can't see in that image is the youngster's lengthy vertical stitches necessitated by his third open-heart surgery. I don't know the medical history but I do know this young boy and his siblings are grateful to have in their lives a caring cop who looks after them, so much so that "Uncle Tommy" has a seat at the dinner table, set by Granny Dorothy.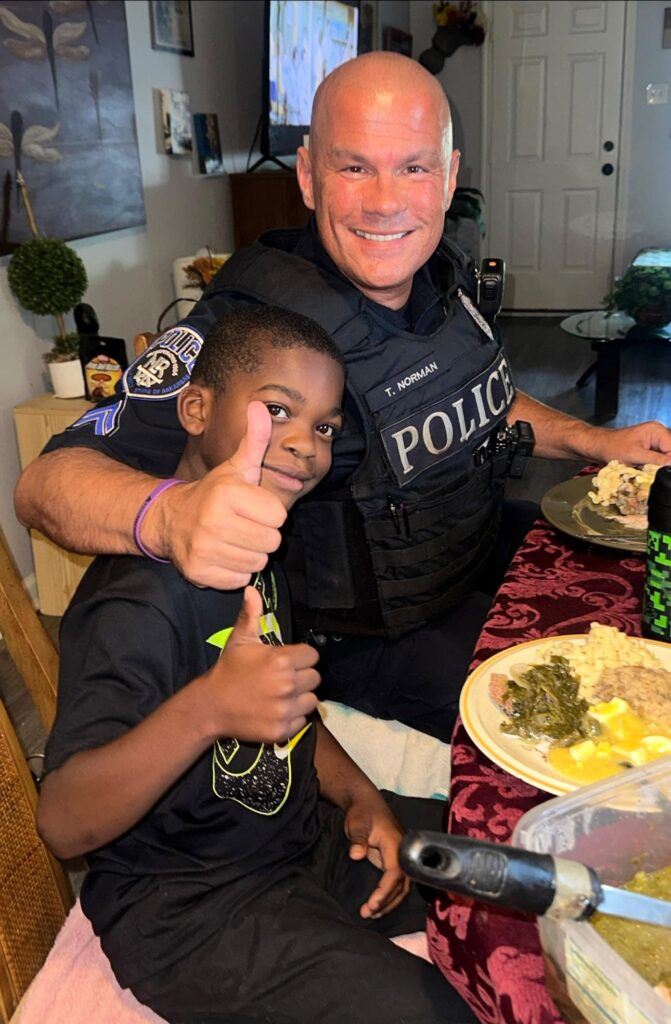 (Photo courtesy of Officer Norman.)
Officer Norman is definitely cut from a different cloth and is recognized as such, with several folks from his enormous fan base creating portraiture in his image and sending it to him as tokens of gratitude for serving the community as cops are positioned to do.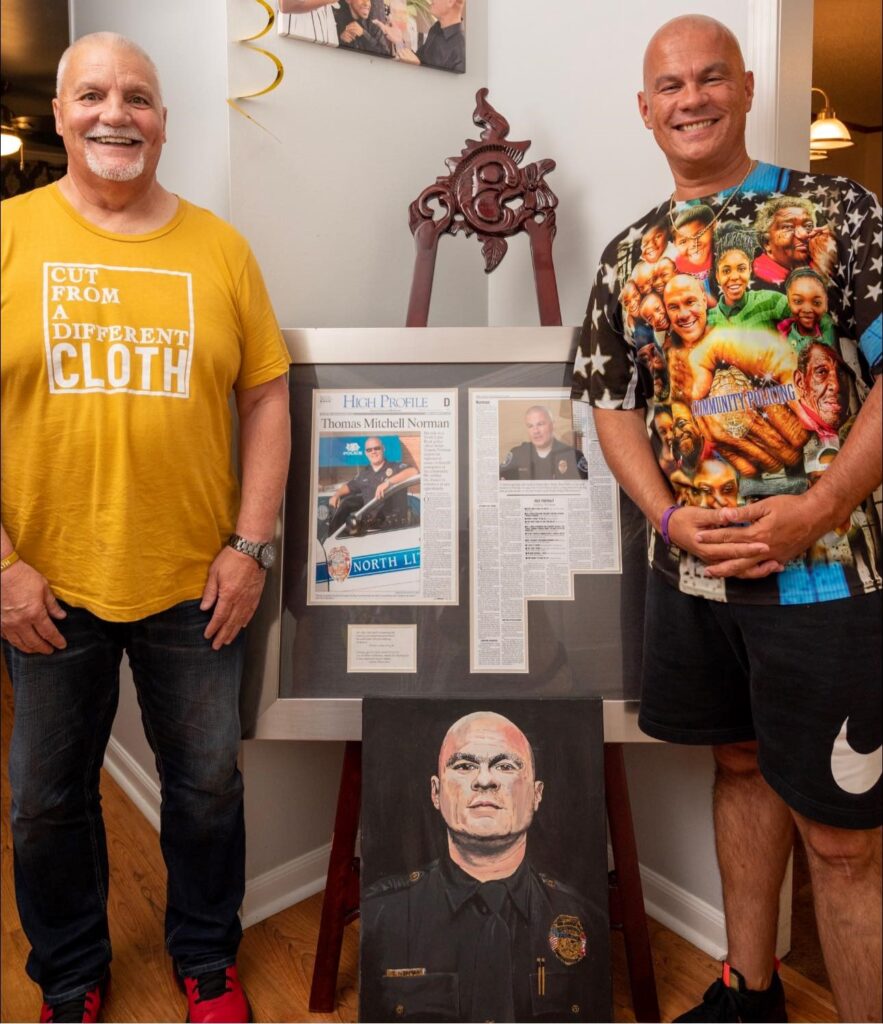 (Photo courtesy of Officer Norman.)
On June 17, 2023, Officer Norman achieved a law enforcement milestone and was celebrated empirically, including archived newspaper articles written to honor his steadfast commitment to the community and the people in/around it.
"Today I celebrated my 25th work anniversary with the people who matter the most, my family and friends!" wrote Officer Norman.
For all the wonderful works he's performed and the great deeds he has done, the policeman with a pure heart recently found himself in need of cardiology care.
On September 26, 2023, Officer Norman posted he experienced chest pain and checked himself into the ER.
That medical scare culminated in plenty of prayers from folks in his community of North Little Rock and across the country—his global reach is admirable and well-earned.
And it all started with the little things, like stopping and sitting with children, being genuine and kind and caring. Most of all, love can be felt by kids (as portrayed up top) and seen by a watchful world.
We close with words from Officer Norman, attesting to the inroads of policing a community and the stewardship of its citizens, young and old: "This is not as easy as it looks! There was a time early in my career when sitting on a front porch didn't come so easily. The badge, boots, and gun alone won't get you invited on a front porch. But a heart, compassion, and commitment will."
---
This article originally appeared at the National Police Association and was reprinted with permission.