DETROIT – Michigan State Police have released a dramatic video of a vehicle pursuit, which shows a driver's unsuccessful bid to evade troopers by jumping from his moving car before crashing, nearly crushing himself.
A state trooper initiated a traffic stop of a motorist for speeding on Interstate 94 on Friday. However, Michigan State Police said the man continued weaving the black Impala in and out of traffic and drifting across lanes.
The trooper in pursuit initially stopped the chase for safety reasons. However, the driver later reappeared on the freeway and the vehicle pursuit ensued, Lt. Mike Shaw told WDIV-TV.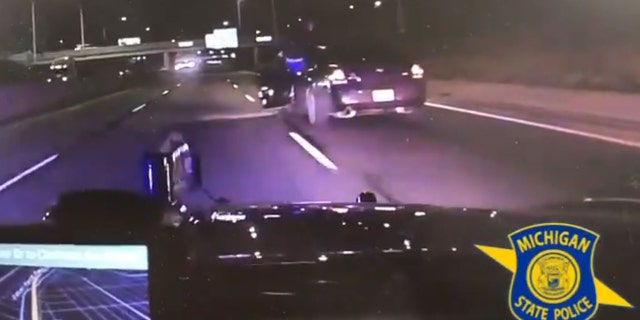 Dashcam footage shows the driver opening the car door and leaning out in an apparent attempt to abandon the vehicle while it remained in motion in front of the trooper. However, the desperate man was unable to keep control of the car. As a result, he veered up an embankment and then back across all lanes of traffic, crashing into the center median, nearly crushing himself in the process.
The man then appeared to jump from the car before it came to a full stop, hopping over the median and running through oncoming traffic.
Shaw said the trooper followed, and used a Taser to subdue the man and make the arrest. The man reportedly fled because he had outstanding warrants and didn't want to stop, police said.
"Lucky no one was hurt, and the bad guy went to jail," state police wrote on Twitter.
Working as a state trooper means every shift is something new. This driver had some warrants and didn't want to stop. Lucky no one was hurt, and the bad guy went to jail. #BacktheBlueDetroit pic.twitter.com/UNXBSpfAMI

— MSP Metro Detroit (@mspmetrodet) January 7, 2020
---
---
Police said they released the video during their "Back the Blue" celebration this week to show the public the kind of everyday encounters troopers face while doing their job to protect citizens, FOX News reported.