Photo Left to Right:  Dan Greene, Karen Solomon, Phil Carlson, Joe Willis, Jason Der, Thomas Dworak.
---
Since 2015, The International Law Enforcement Trainers and Educators Association (ILEETA) has sponsored the Emerson Hour.  A unique hour where six presenters are given 9 minutes to speak, without notes, videos or any other resources.
Even more unique is that those that attend do not know who the presenters will be and the speakers must speak on "what has become clear to them since they last met," based on the famous question by Ralph Waldo Emerson.
In fact, this year the six presenters didn't know who the other presenters were until 30 minutes before the event.
The rules imposed upon the speakers, combined with the powerful messages, makes the Emerson Hour one of the most dynamic hours anyone will ever hear in a law enforcement training setting.
The event began with Trainer Joe Willis, a retired military veteran and currently a Team One trainer, said that "clarity comes with asking the right questions."  Willis said that there is a need to develop training that develops trainers in law enforcement, both "current" and "relevant."
Willis exclaimed that "It takes practice for my training to manifest into good behavior: and perfect practice makes one perfect."
How are we to accomplish the training that it takes to develop the leaders we need?
Willis said that we must start with four words.
"Be that leader now."
Jason Der followed the passion of Joe Willis with a topic called the "Power To Change."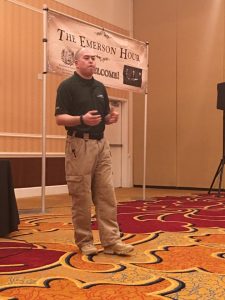 Der pointed out that the only thing constant is change and he was approached with this issue when he made the decision to join his wife on a fitness journey.  At first he didn't see the importance until he embraced this change of mindset and approached fitness as being just as important as officer survival.
In fact, as Jason pointed out, fitness is more important.
During the journey, Jason found that he inspired others and it became clear to him that personal change can help others change as well.
In closing, Der said "I'm asking you to change the world," and reiterated that those behind the badge are doing that very thing every day.
Our very own Karen Solomon began her talk by saying that we aren't talking about suicide enough.  She detailed that "in 2016 I personally know of 100 law enforcement officers and 28 corrections officer that have committed suicide."
They are not memorialized, remembered and they don't get benefits.
Karen knows their names and their stories.
She emotionally broke down as she detailed a 17 year veteran that died after suicide because he battled PTSD for the last two years of his life and when some wanted to give him a funeral with honors, it was rejected by some in the department and the community.
"We often say It is not how they died that matters, it's how they lived…..We don't mean it," Solomon said with raw emotion.
"We pretend that they didn't serve……We have to stop judging," Karen lamented during an emotional peak of her moving speech.
Solomon said that our profession has to stop arguing and it's time to build a team.  Those that can handle the stress well need to start helping the others.
She closed with an idea that is turning into reality as we here at Law Officer are joining her in an effort to honor these lives that have so often been forgotten.
Karen announced a new website, in partnership with Law Officer, to honor these brave heroes called "Honor Them." It is with those words and Karen's passion that we will do exactly that.
Her final words were "help me change it," and the crowd erupted to their feet and applauded the words, intentions and emotions that Law Officer Columnist Karen Solomon brought to the ILEETA crowd.
Thomas Dworak was the fourth speaker and he discussed the influence that every law enforcement officer has to those around them.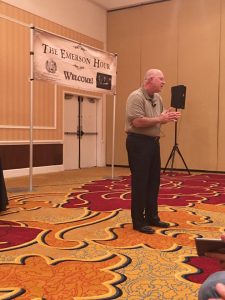 "Influence should provide value in your life," Dworak said and "being vulnerable is part of the process."
It took being vulnerable a few years ago to admit I was an alcoholic he said to a quiet crowd.  Dworak described Coach Bob Lindsey and Olivia Johnson as "angels that walk among us" in the influence that they had on his life.
Dworak exclaimed that "being vulnerable makes you a better person, trainer and police officer," and he encouraged others to listen empathetically to those around them.
Phil Carlson started by loudly proclaiming "me, myself and I." Saying that most people, through research, like to talk about themselves more than anything else, he encouraged those in attendance to think differently about what naturally they may want to do.
Using himself as an example, Carlson said that he "…was juggling so many things and the problem was that I wasn't being very effective at any of it."
Phil spoke about drinking too much and losing sight of the most important relationship in his life, his wife.  While he was there physically, he wasn't there mentally.
Carlson was moved one day by a verse in the Bible he called "Phil's International Version" that told him he was hypocrite and that he had become the center of his own universe.
It was getting his priorities straight that led him to placing his family first.
"It's hard to make a difference if it's all about me, myself and I," Phil said.
He encouraged those in the crowd to live their life with intention and to understand why they do what they do and to keep fighting the good fight.
The last of the six speakers was the 2017 ILEETA Trainer of the year Dan Greene.  Speaking just a few miles from Ferguson (MO), Dan spoke specifically about what impact the Ferguson incident has had on law enforcement in general.
He spoke about his father, a police officer just outside of Los Angeles, that he was extremely proud of.  Dan spoke of the lows that his dad had which included an on duty motorcycle accident and an officer involved shooting.
Just like officers today, Dan's dad had troubles with these events and specifically he had to defend himself on his actions.
"As the result of these two scars, he found himself angered, frustrated and disillusioned with the job," as Greene detailed a downward spiral in his father that eventually cost him his job and "his legacy."
As Dan circled back to Ferguson, he spoke of the "de-policing" phenomenon which has caused higher crime rates in some cities and those higher victimization rates.
He called issues like the "Ferguson effect" avoidable and cited the most important variable for officers as being "free will" and that is why "de-policing" does not have to occur.
Circling back to his beloved father he warned the audience that these issues could cost us our legacy and reputation but it doesn't have to be that way.
The 2017 ILEETA Trainer of the Year pointed to training itself as having the primary role to prevent negative issues and citing the "thinking man's game" of the law enforcement, Greene ended his powerful message by asking that we keep each other healthy ethically and that we keep those ethics finely tuned.
The 2017 version of the Emerson Hour was a shining example of the greatness that exists within law enforcement today. If only I could bottle up the power and passion that each speaker brought and sprinkle it on each and every police officer.  Since that isn't possible, I hope I've done the next best thing, which is to convey to you in words what those in attendance felt in their soul.
ILEETA Deputy Executive Director Brian Willis is the personality behind this event and his efforts should be applauded.  If you want to hear a slice of what the event has to offer, we have placed a video of Karen Solomon's talk below.