TOLLESON, Ariz. – Law enforcement authorities in Arizona responded to a shooting early Sunday morning. Officers discovered a female teen was gunned down after she left a house party. She was pronounced dead at the scene, according to reports.
The shooting occurred just after midnight near 91st Avenue and Lower Buckeye Road in Tolleson, a suburb of Phoenix. The murder victim was identified as 17-year-old Desiree Rivas, a high school cheerleader. She attended  Cesar Chavez High School in nearby Laveen Village, and was described as a beloved student and active member of the school's spirit line, according to KPNX-TV.
"It is with the heaviest of hearts that I post about the tragic loss of our amazing friend, athlete, and student Desiree. Our hearts are broken into a million pieces." the Cesar Chavez High School Spirit Line said in a statement on Instagram. "May Dessy rest in peace and be surrounded by love and light. We love you, Desiree."
According to police, the suspect remains unknown as they try to figure out what prompted the shooting.
Nearby residents heard gunfire and rushed to help Rivas, the New York Post reported.
"I was in the bed and I heard these gunshots, and they were loud. It seems like they were right in my yard. They were so loud," April Stokes told FOX10. "I was scared to get up because I didn't know where they were coming from, since they sounded so close."
"She did have friends that did stay behind and assist her, and I was there with her," one woman told CBS 5 after seeing Rivas. "We couldn't sleep at all last night. I couldn't sleep at all. I kept thinking about the mother and what she was going through."
School officials announced Rivas' death in a statement posted to social media earlier this week.
"Dear Cesar Chavez Families, It is with deep sadness that we share the tragic news about the passing of Desiree Rivas," said Principal Robert Grant. "Desiree was a beloved member of our student body and an active member of our spirit line. She will be deeply missed by all those who knew and loved her."
"Desiree passed away after being the victim of a senseless act of violence this past weekend. She loved her peers and was a compassionate and caring member of our student community. At this time, we share our love, support, and sympathy with Desiree's family and friends," Grant wrote.
On Monday, more than 100 people gathered to honor the young life lost too soon. There were candles, flowers, and pictures. Everyone brought balloons and let them go in her honor.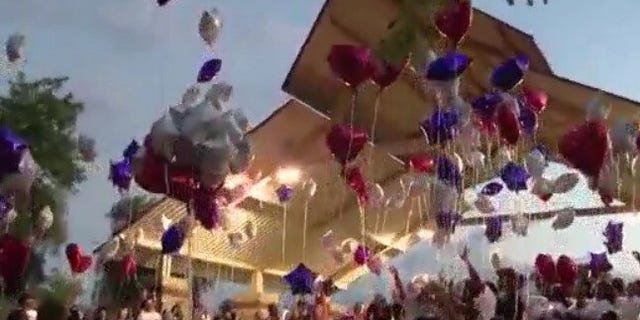 "She touched so many people. I mean, you never know how relationships are at school. They come home, and they don't talk about it because they're doing homework and stuff like that," her father Danny Rivas said at the vigil according to FOX10. "This brought my spirits up a little bit. I have to make it through this week to make sure that everything goes well for her because I want to send her off properly."
Investigators are asking for help from the public. If anyone has information, they are asked to reach out to police or Silent Witness at 480-WITNESS or 480-TESTIGO for Spanish.