Photo Courtesy:  SSI
The increased attention to officer deaths, injuries and litigation associated with driving has increased the focus of emergency-vehicle driver training. Along with this focus, the use of driving simulation has increased dramatically. But although many consider driving simulators a new way to train officers in emergency vehicle operations, the history of simulation has a long and storied past.
The replication of equipment to practice on is nothing new. For centuries, humans have used simulation to improve their chances to succeed in a wide variety of activities that range from mock battles to moving targets for archers. In short, simulation is to pretend with a purpose, and the purpose of driving simulation is to improve our chances to succeed on duty.
As Emergency Vehicle Operations Training became mandatory in California for law enforcement officers, the lack of regional driving tracks made it difficult to meet the standards. An alternative to the traditional track training had to be examined, and that alternative was driving simulation. Doron Precision Systems adapted a platform called "race driving" from the Atari video game system. More than 60 law enforcement based scenarios were created, and those scenarios were eventually adapted by each driving simulator manufacturer.
The effort put forth by California and the instructors was tremendous. While law enforcement driving simulators have seen numerous changes in the last 20 years, the original scenarios remain the mainstay of the training given across the United States.
The driving simulation market is as competitive as ever and today's devices show every bit of the modern day technology that we are used to. With a Windows-based station, a visual system of 60hz or more, three-dimensional road surfaces and realistic steering feedback, the simulators of today can provide an incredible experience for the trainee.
But how does that experience translate to successful training? So far, that success has been limited. Far too many agencies have spent hundreds of thousands of dollars for a piece of equipment that sits idle.
Limited Success
Utah Department of Public Safety Sergeant Doug Larsen is the EVO manager for the state of Utah. "Driving simulators sell themselves," he says. "It's easy for an administrator or trainer to advocate the purchase of a law enforcement driving simulator. It doesn't take long in a simulator to acknowledge the fun factor, but the fun factor has nothing to do with the training value that must occur if an agency is going to make an investment into a driving simulator."
Indeed, the research and purchase of the actual driving simulator is easy compared to what must occur afterwards if an agency is going to see success. In 2002, Larsen took over the emergency vehicle program, and after seeing the outcome of simulation, he almost recommended doing away with driving simulation altogether.
"It was a mess," he says. "We saw officers getting sick and a ton of subjectivity, and the scenarios that came with the system were outdated, useless and a waste of time and money. You were hard-pressed to find training value in them, and we had a harder time trying to associate them with objectives."
Sergeant Paul Stricker coordinates driver training for the Minnesota State Patrol. Following the purchase of two Patrol Sim IV L3 Simulators 14 months ago, Stricker immediately encountered issues with the scenarios. "There seemed to be a lack of goals and objectivity," he says. "We ended up going through the majority of the scenarios with our instructors and created the goals to obtain. Essentially, we taught ourselves."
Retired Santa Ana, Calif., Commander Chuck Deakins works for FAAC as a subject matter expert in driving simulation. "The most important part of the simulator is the instructor," he says. "Without the passion of the instructors, we will continue to see simulator programs dying on the vine."
Stricker and Larsen had the passion to make the programs work. Larsen and others in the training world couldn't see any progression or reason why so many of the scenarios were installed on the machines. It was time for a change, and instead of stopping his simulator program, he made a stop to see Reginald Welles with Applied Simulation Technologies (AST). Welles, an engineer, had developed the original Patrol Sim with his team at I-Sim from 1996 1997. A founding father in vehicle simulation, Welles and his partner Darrell Turpin wanted to understand the issues Larsen and others were having. They didn't understand at first, but they were willing to learn, and more importantly for Larsen, they wanted to help.
Larsen was onto something. Simulators are trainer based, not software based. Although the hardware had evolved tremendously from the early days of simulation, the scenarios that drove the training did not always match what an agency needed. Complaints abound on what's technically referred to as simulator adaptation syndrome (SAS) and commonly called simulator sickness, as well as a lack of objectives within the original scenarios that come with law enforcement simulators.
According to Welles, "Traditionally, we've been focused on the simulator itself and not the simulation. When you don't measure performance, you simply begin to lose your return on investment with the simulators."
Nestled in an office complex outside of Salt Lake City, Welles and Turpin put together a small group of employees who focus on the direction and the future of driving simulation. Their company has developed a series of scenarios termed EVOC 101 that not only build on one another but also grades each student.
Larsen says, "Welles and his team have helped my agency and countless others, and while there's still work to be done, he now [understands] the value of driving simulation."
Finding Training Value
Despite the real concerns and issues Larsen and others have experienced, driving simulation in law enforcement has an incredible value. Jeff Eggleston coordinates law enforcement driver training for the Ohio Peace Officers' Academy. With simulators, he says, "Decision making, intersection clearing and pursuit intervention techniques can all be trained in a safe environment. There are simply driving activities that we can't simulate on our driving facility, and the simulators have proven highly valuable in teaching officers how to react to the real risks that they face every day in a vehicle."
Stricker says "We can do things with the simulator we can't do with real driving. Cross traffic, pedestrians, weather conditions, pre-programmed events. Our simulators are in a trailer, so we can take them to the troopers rather than having them come to us. The ability to enhance other training, such as vehicle contacts and force on force training, gives realistic scenarios that students may not have seen in real life. They give us the ability to expose them to thousand of situations that they may not have seen. By doing this, we can hopefully give them the ability to prevail if they ever see them in real life."
Deakins says "I've never once seen cross traffic in an intersection on a training course." Although instructors may try to simulate that, the reality is the students know an instructor isn't going to hit them. There's no real perception of failure, and for that reason Deakins says the simulators can add a real value to EVOC training.
So, how can an agency gain this value from driving simulation? Several methods can maximize the training, beginning with the purchase.
The Purchase
First, remember that simulators are a training tool and nothing else. Often we research and purchase simulators like we do vehicles. Simulators shouldn't be compared to vehicles alone, however, and while it's a bonus to have one that drives and looks like a real vehicle, that simply isn't the best way to shop for a training platform.
The simulator industry is definitely hardware driven, and that's what sells. A fancy looking simulator may be something to show off to others, but it must be purchased with one thing in mind: How can this simulator help me train my officers and objectively evaluate and measure those training efforts?
The Minnesota State Patrol sent Stricker to the manufacturing location of its two simulators. "I actually helped build a simulator and was able to gain a ton of information just from talking to the engineers that built our machine," he says. "You have to pick up as much information as possible. Learn as much as you can about your simulator before they are even delivered, and once you get them, keep your officers in them and your instructors teaching with them. The more you get them in there the better it is."
Training Methods
The traditional methods of law enforcement driver training can rarely be applied to simulator training. If simulators are compared to actual driving, they'll fail miserably.
According to Welles, "Simulators need trainers who know how to use them to get the best results. Traditional training techniques haven't kept pace with the advantages offered from simulators. You simply can't expect to change the outcome if the method hasn't changed. Tools alone can't change the outcome, especially when they're not used as intended."
The typical simulator scenario employs nothing short of ambush training, according to Welles. "When you're in a simulator and someone tries to surprise you with a specific event, whether that's a flat tire, a door opening or a ball rolling out in the street, dealing with that isn't training. While you're conditioned to expect the unexpected, it just ends up making you nervous."
Training develops the insight on how to handle the unexpected and takes in the totality of the events prior to an event. You can measure a number of core skills in a simulation environment, ranging from the management of speed and the siren to the amount of brake pressure used.
Placing traditional driving instructors in a simulation world without the right training and tools is akin to using classroom and driving track techniques with "Star Trek" technology. It simply won't work.
Deakins agrees and has worked closely with FAAC to ensure the trainers are prepared. "We obviously send a technician out to show the instructors how to turn on the machine, but we do much more than that," he says. "We've developed our own DVD and curriculum to help instructors personalize the training to their specific agency."
Mike Flavin of MPRI says his company is working hard to ensure that the Patrol Sim IV is the best possible training tool for the instructors. "We care about how our simulators are being used. We constantly use the feedback from our customers to improve, and we want to do more than just sell a machine. We want to help departments get the most from the technology. If we have to send out a trainer years down the road to help an agency with our simulator, we'll do that."
Subjectivity vs. Objectivity
The traditional driving track is inherently subjective, and it's a good tool in spite of that because we don't make many measurements in that pristine environment. In a typically complex simulation, however, officers may face dozens of objects moving at the same time, and an instructor simply can't keep up with every possible event.
Critical mistakes by students can be easily identified in a complex simulation, such as running off the road or striking a pedestrian. What we really need to get at, however, are core skills that, if developed, can prevent the easily observed major mistakes from occurring.
Deakins identifies an inherent problem with the subjectivity. "I definitely see instructors miss training points in the scenarios, and because of that it helps to know the original intent of the scenarios on the simulators."
A computer is objective. It doesn't care who you are. Officer Jeff Easton is the Arizona Department of Public Safety's tactical-driving coordinator, and he notes the issue with the lack of objectivity in the simulator. "Each instructor does have their own view of what's correct and what's not, and it's extremely difficult to identify every issue."
The only way to use complex scenarios is to let the student repeat the same scenario until the critical incident does not occur. Unfortunately, when using this model of instruction, the simulator doesn't teach a skill but simply conditions you to react to an event. Welles terms this "negative training," which does nothing more than tell a trainee to watch for a certain car or pedestrian rather than dealing with the entire environment. "Training is not a singular event," he says. "It involves everything, including decision making and department policy."
To combat the problem, Easton now uses the EVOC 101 product developed by Welles and his team of designers. The software tracks numerous trainee inputs in custom scenarios designed to place specific goals within each given scenario. Each scenario builds on the one previously, and a percentage score is produced showing the instructor and student what must be corrected.
Easton saw an improvement in using this objective tool almost immediately. "Before EVOC 101, the students didn't know many of the smaller and important items in the driving environment. I saw them approach intersections safer, and there was an immediate feedback of learning. Before, we weren't able to measure anything, and we can now show them exactly what they did. It's completely objective."
Just as important was Easton's experience with simulator sickness: "Virtually no one gets sick anymore," he says.
Understand the Difference
To ensure the effectiveness of driving simulators, agencies must understand that simulators aren't designed to do what vehicles at a training facility can do. They're designed to do what the vehicle and track don't permit you to do. Decision making involving pedestrians, traffic and intersections should be the focus of the simulator. Vehicle dynamics and control should remain at the track. Long scenarios that tend to deal with the dynamics of the vehicle are sure to disappoint.
Deakins says the biggest problem he observes with driving simulation training is agencies not training for what the simulator was designed for. "They try to replace the track training with the simulator training, and that's simply not what the simulators were designed for."
Make Sure It Can Achieve Requirements
Requirements must be established with simulation. Presently, most are set up to just let you drive. Many scenarios never end and, depending on the direction the student goes, will depend on what they encounter.
The requirements should be performed in a short amount of time, built upon and immediately measurable. Specific policy training, driving the speed limit prior to entering an intersection, stopping and yielding in emergency runs at red lights, etc., are just some of the measurable outcomes of what is capable using simulation.
"Before [EVOC 101]," Easton says, "We weren't able to measure anything, and we can now immediately show the student what they did. It's completely objective."
The Future
Driving simulator training is at a crossroads. The direction in the next decade could be positive or negative for law enforcement. Fortunately, simulator and software companies are starting to take notice of what the instructors are saying and reassessing how training is done. And instructors are realizing there's much more to emergency vehicle operations training than driving around cones on a track.
Keep in mind, however, that companies respond to demand. It's up to us, the trainers, to create that demand by establishing standards for performance that can deliver the training, safety and service that our officers and the community depend on us to do.
The future belongs to those who learn how to get the most out of their training technology. The lives of those we train as well as those we are sworn to protect depend on it.
Driving Simulator Vendors
Applied Simulation Technologies www.appliedsimtech.com
Simulated Systems http://www.ecagroup.com/en/professional-car-driving-truck-driving-and-bike-driving-simulators 
Doron Precision Systems www.doronprecision.com
FAAC www.faac.com
MPRI www.mpri.com/driver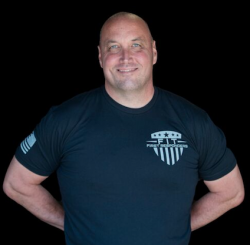 Latest posts by Travis Yates
(see all)